Sale!
Cinematic Macro Phone Lens
In a world first, Struman have made a variable macro lens for smartphones. The 22-82mm Lens is the most versatile detailed Macro lens available for iPhone, Samsung or Android.
When using with phones in the iPhone 13 & 14 series a camera replacement app such as Lightroom, Reeflex, Halide or ProCamera may be required to manually switch between lenses.
Due to popular demand you can now purchase the Cinematic Macro in the Struman Macro kit.
FEATURES
Works across iPhone, Samsung, Oppo & Huawei devices
Simple design allows for instant setup
Precision tooled aluminium enclosure
Machine polished optical grade glass
Crystal Nano coating for scratch protection
5 Year global warranty
IN THE BOX
Cinematic Macro Lens
Universal Adaptor
Lens Caps
Carry Pouch
↓ Scroll to see more ↓
73 in stock
Add to wishlist
Add to compare
Description
Mike from Smartphone Photography training takes us on a tour of the Cinematic Macro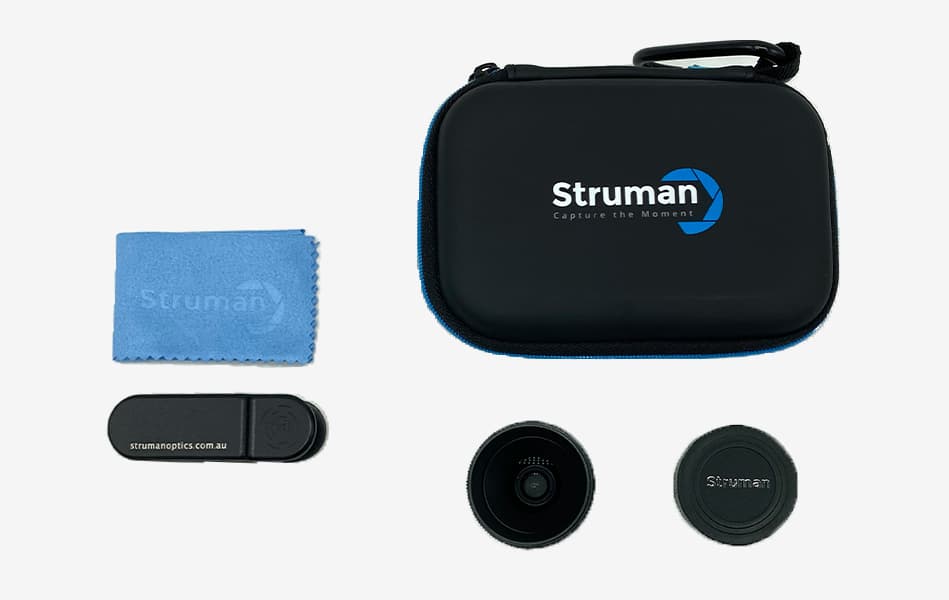 1. Cinematic Macro 2. Cleaning Cloth 3. Carry Pouch 4. Lens Caps 5. Universal Adaptor
Easily clip onto any phone or tablet, no extras required.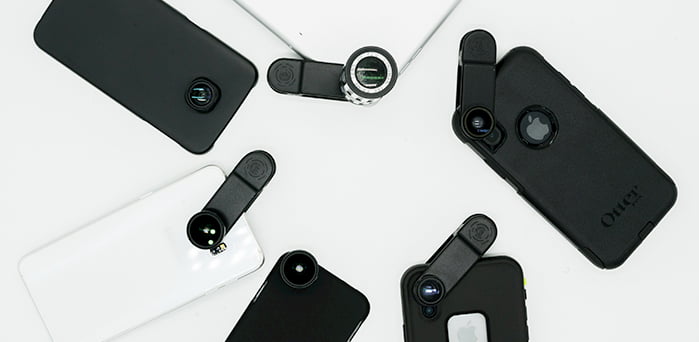 Struman's Cinematic range have found a place with some of the leading industry professionals.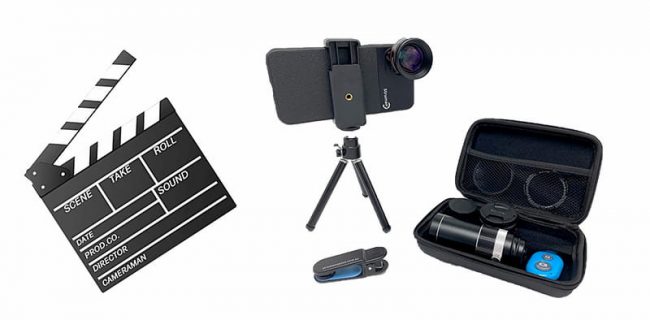 "I have trialled nearly every product out there and there is no doubt Struman lenses are the best of the best. I use the lenses nearly every day now as I hunt and compile news stories. The pictures I can now shoot on my phone are so good we run them on TV... and no body knows it was shot on a phone. What's more, being able to create broadcast quality content on my phone makes it so much easier when uploading digital content for social media channels."
"Struman Optics lenses gives me the flexibility to work with a Cinematic Wide lens in the pocket format. The macro lenses allow me to capture environments with amazing attention to detail. During the last ten years I produced two mobile/smartphone documentary feature films and more than a dozen smartphone and mobile short films, which are screened at film festivals, exhibited in galleries and broadcasted on TV. Pocket size equipment for the big screen can push the smartphone filmmaking aesthetics and create novel relationships with characters and audiences alike."
"My two greatest creative passions are filmmaking and photography and to have a set of lenses that can fit in my pocket is invaluable. My last film was shot predominately with the Struman Cinematic Wide and Telelens and to see the crisp imagery on the big screen at the Events Cinemas in Sydney was a sight to behold. All lenses are extremely well made with high quality glass and are a constant companion whether I'm on location on a documentary set or capturing memories with my family"
"As a professional smartphone photography trainer, I can only recommend the best in accessories. Comparing all the marketed brands, Struman Optics have my strongest endorsement in product development and customer service."
Multi Layer Crystal Nano Coating
Aperture: f1.8
Material : Aerospace Aluminium
Cinematic Macro
Magnification: 1x (focal length equal to 22-82mm)
Angle 53°
Dimensions: 40mm x 31.10mm
Weight: 30g
Dimensions: 40mm x 28mm